If you're like me, you're always on the look-out for new and fun things to make. Here are a few valentine ideas from a recent prowl around the Web.
Woven Cones and Hearts
I am proud to say that I suggested this design :0 on
Papermatrix
. Be sure to have a look at the
heart baskets
, too.
Venus Valentine Trap
by
Zerolabor
I ♥ Earth
by
dmswart on flickr
Before you scratch your head about this one, look at the
shape
of the pieces. I can think of lots of different ways to decorate all those little hearts!
Valentine Wreath from Paper Strips
This picture is from
Arts for Life
, but I like the instructions at
4 Crazy Kings
better.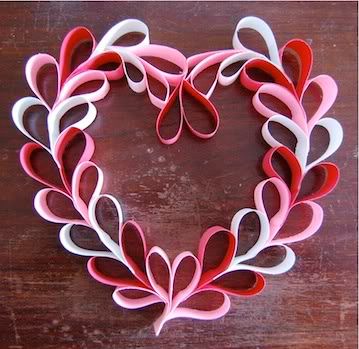 Origami Winged Heart
I saw one like this at
this origami gallery
, which has dozens of origami heart folds, but no folding instructions.
Extreme Cards and Papercrafting: pop up cards, movable and mechanical cards, digital crafts and unusual papercrafts.